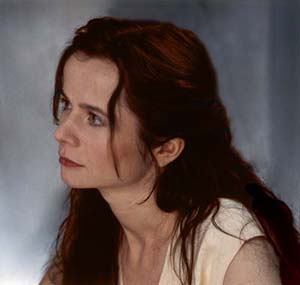 Position:

Executive Officer

Species:

Human

Gender:

Female

Age:

37

Height:

5'10" (170 cm)

Weight:

160 lbs (+/- 72 Kgs)

Hair Colour:

Auburn

Eye Colour:

Place of Birth:

Vengerovka village, Russia, Earth

Date of Birth:

June 10, 2345

Family:

Father - Pjotr Petrov, deceased
Mother - Alexandra Petrova, deceased

Languages:

Federation Standard, Russian, Klingon and Cardassian

Interests and Hobbies:

Historical Weapons, Martial Arts
Personality:
She can always be counted on to speak her mind, without prettying her words up in any way. Unusually blunt, but completely honest in everything she says. This has earned her a bit of a reputation as troublemaker and has been the cause of many transfers to different ships and commands.
She takes her work very seriously, profiling herself as a dependable officer. She is not the most patient Lieutenant Commander in Starfleet, though, and is quite a demanding office, always expecting her subordinates to perform to the very best of their abilities - and sometimes beyond.
In her spare time she likes to work out, and train in the use of various weapons and martial arts styles. She has a small collection of ancient weapons and replicas thereof, that she has acquired during her many years of service.
In short, she is not the easiest person to get along with due to her tendency to be brutally honest - to the edge of insubordination - as well as her impatience. But in a fight or a crisis situation, there is no-one you'd rather have at your side. It just takes a special kind of CO to realise this.
History:
Born in the small village of vengerovka, in the middle of european-russia, she grew up on a farmland, with the everpresent danger of the wild animals - wolves and bears - threatening the safety of the livestock and the family. As such she was brought up from an early age on to be trained in the use of weapons, and with a firm belief that she was - atleast partially - responsible for the security of her family and their farm.
This grew, as she became older, a desire to protect everybody - not just her family's farm. Eventually, this became the reason why she joined Starfleet, and specialised in security.
Being one of the few women in the predominantly male world of star-ship security, and having grown up on a farm, she quickly lost any hint of tact that she might have had, and started to build her reputation for a quick wit and bluntly honest tongue.
She soon proved herself quite remarkable at planning and the tactical side of things, as well as proficient with various weapons and hand-to-hand styles, which helped her ascention through the ranks.
However, her blunt and unforgiving, impatient nature led to many situations of discomfort and even barely concealed dislike between her and her various commanding officers, which in turn led to a long sequence of transfers, from one ship to another, and on again - so often that she eventually just stopped unpacking, after arriving on a new ship again - knowing that soon, she'd be likely to be transferred off again.
Only by sheer determination to prove herself, and her hard work, did she eventually rise to the rank of Lieutenant commander. Her transfer to the USS Pegasus marks her first post as Executive Officer on a starship, and she is determined to make the best of it.
For however short or long this post might last...
Awards: