Valerie Errin (NPC)
If you want to use this character in one of your posts you are free to do so, there is no need to contact the CO if you just stick to her personality profile and try to write accordingly.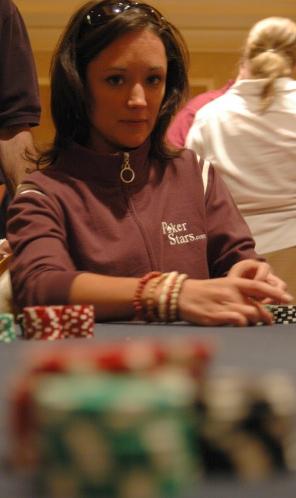 Position:

Dealer in Casino "Lucky 47"

Species:

Human (1/16th Trill)

Gender:

Female

Age:

21

Height:

5'4"

Weight:

120 lbs

Hair Colour:

Dark brown

Eye Colour:

Brownish green

Place of Birth:

Laughlin, Nevada, USA, Earth

Date of Birth:

4th of October, 2362

Family:

Father - Frank Errin
Mother - Vanessa Errin-DeVries
Sister - Ashley Errin

Languages:

Federation Standard and Very basic Romulan

Interests and Hobbies:

Poker, Brent Knile, Extreme sports and photography
Personality:
Valerie has a very sweet demeanour, she mostly has a smile on her face, which does her good while dealing at the poker table. She likes to be on the other side of the table more though, although she is trying to hide that until the time is right. She has a knack for social situations, being able to solve a fight (and start one if need be) in a matter of sentences.
History:
At a very young age Valerie was confronted with poker and gambling through her mother, who had taken a job at the local casino to earn something extra for the family. "The King of the Nile" resort was the tourist attraction for Laughlin, Nevada and after Brent Knile started winning poker tournaments it only got better for the casino, and thus the town.
After having lived a pretty solitary childhood she knew what she wanted to do, she wanted to become as good and famous as Brent 'The River' Knile. So at the age of fourteen she started to invest more and more time into poker and less and less into school. Her parents and teachers got worried and when they found what was causing it they forbode her to poker until she at least had finished school.
So it was this reason that she left home at the age of seventeen looking for the easy money, but she didn't find it. Through countless jobs in countless casinos she earned her keep but never really more than that. And to make things worse she couldn't even find the time, nor did she feel like, playing poker anymore.
When she turned twenty one and still had nothing to show for it she made a vow, that she would not rest until she had found 'River' Knile and he had taught her exactly how to play this game. And so she tracked him to Starbase Ronin and his newly opened Casino "Lucky 47"
Awards: